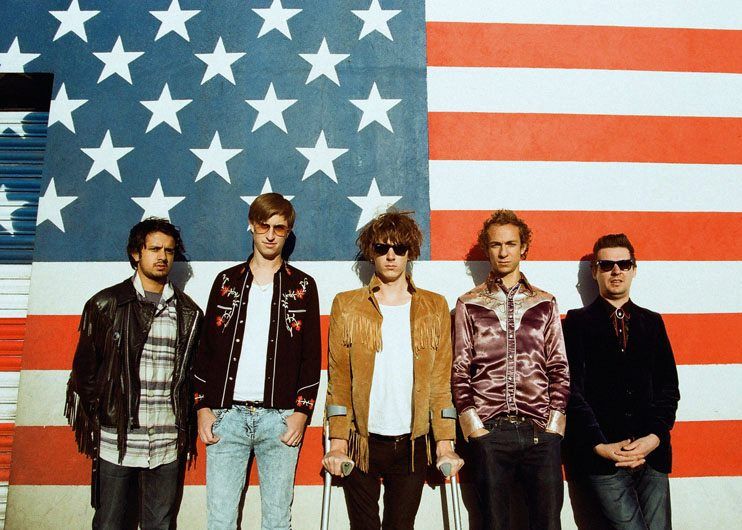 The Mystery Jets
foto: Facebook.com/Mystery Jets
Tento článek si můžete přečíst
česky
.
"Place your bets on the Mystery Jets" allures the Twitter profile of the band, whose main personalities are about 28 years old with a portfolio of four studio albums and one live record. And when you listen to the masterpieces like 21 or Radlands, it feels a little bit strange, that they are still not too much well-known in our country.
I have to make a confession, that I also had no clue about the existence of the Mystery Jets not such a long time ago, what seemed especially weird, when we consider the fact that we are almost peers when talking about the age. First song I heard from them was Someone Purer. Yes, true, the song from their 2012 album Radlands. But when I played it first at the time when everybody was talking about the end of the world, and I listened to the stories of Emmerson Lonestar, the front character who is a glue (or clue) to this conceptual album, in the pre-Christmas melancholy period, everything has changed since then. The journey started one autumn evenfall, when I heard the words of Radlands for the first time: "I've heard there's a place where we go to die, it's a terribly overrated horse-shit shaped whole in the sky." I have to make another confession, because at first I thought that horseshit was actually heart-shaped. That's the romantic vibe in me. At that moment nothing else mattered.
So may the bridges we burn light the way
Out of the darkness of where we have been
Though at times it may feel like a lie
We both know nothing is quite as it seems
When the debris comes falling from the sky
Heaven will still be ours
And until the hell freezes over. The winter was really long, it was over as late as at some time in the middle of April. And the summer had come a bit earlier than usual. The lines in the lyrics of this song led me as far as to the little town called Lewes in the south of England. This year there was held a very special event. The festival organized by Mumford and Sons attracted such a big amount of people, that this beautiful historical town, which was founded at the times of the ancient Rome, was not used to host every day. And the Mystery Jets were there too. And I was there too. It happened in July 2013. The review of this event I published earlier this year, and now it's the time for the interview, which I recorded in the backstage of the festival. My questions were answered by the guitarist William Rees, who founded the band long time ago with his friend Blaine Harrison and his father Henry.
Initially nothing was clear, the band called originally The Misery Jets happened to become The Mystery Jets after Blaine mispelled the name one day. An accident makes wonders, well? The forementioned duo were joined by the bassplayer Kai Fish and the drummer Kapil Trivedi, who is the constant member of the band until nowadays, while Kai left it after the recording of Radlands. Blaine Harrison began as the former drummer of the band, then switched to the keys to become a frontman and the singer finally. Their music, which used to be also like "all members sing out loud" (see Diamonds in the Dark) is now much more built on the contrast of songs which have two different singers on main vocals, William and Blaine (especially on Radlands).
In this interview you will find out, how much the band was formed by the psychedelic influences, but if I should mention just one band, where I see the link, it is The Beatles. Mystery Jets are the children of Beatles like anybody else (and forget the name of the Harrisons) thanks to their melodic ideas and for the skill to write a good pop song. But at the same time they keep a distance from the mainstream line of the British pop, they experiment and follow their own way. And what is rather the most important thing, they write songs which have the potential of crossing the generations. Not every song is so melancholical like The Ballad of Emmerson Lonestar and not every song so happily lively like Young Love. During seven years they've managed to try out some psychedelia, 80's styled pop songs, glam costumes and Blaine has changed his haircuts numberless times, to end up with Radlands, guitar based, pure and humble "American album".
There is also a visual aspect to their music, mentioned by William, when we talk about the vinyls. It's not just the golden cover of their vinyl record Live At The Royal Festival Hall, which contains their performance at the famous London venue that took place last year, but also the videos. The obstacles bring the creativity. The directors of the Mystery Jets videos had to come up with something less usual. If you watch some of the band's videos, maybe you won't notice anything different. The frontman is always sitting on something or the camera puts focus on the upper part of his body. Blaine Harrison is also one of the most well-known British artists who was born with a Spina bifida disability. It means, apart from other things, that his legs are partly paralyzed. Nevertheless, the American version of the video to the song Someone Purer is pulsing with dynamics of motion. Or the video to the Young Love single catches one's eye with an interesting choreography.
I was surprised, that after two years since they had spent there two months of recording Radlands, William still calls the American city of Austin in Texas 'a home'. But there were other notable remarks in the interview, like dream collaboration of Mystery Jets and Frank Ocean or their wish to have a gig in Prague.
---
This year you came back to tour the United States and Austin, where you recorded Radlands album. How did it feel to come back to these familiar places, did you have any reminiscences of some special memories?
It was amazing to come back. I think it was really cool, when we were in the van approaching the city and all that kind of little motels and the motorways started to look very familiar, it was like "I remember that little diner in that kind of a hotel", and we knew we were coming back home to Austin. It's an amazing city. We've spent there about two months recording Radlands in 2011 and then one week on the Mumfords tour.
Was there any difference for you between your British fans and the American ones?
Yeah, because we've been playing with Mumford and Sons, they have a huge fanbase in America, but also a very loyal and open-minded fanbase. And I think because of that, their audiences are much more willing to listen to us. But I don't know if that is specifically an American characteristics, it's probably more a characteristics of a Mumford and Sons fans. They seemed to really appreciate us, they gave us a lots of respect and we felt very welcomed on that tour.
With a Vampire Weekend concert that was held the day before still in my mind, when I witnessed half-empty or half-filled flying pots of beer, and from my point of view during one of the best songs of the band, Hannah Hunt, it seemed like few people really paid some attention, I just mentioned...
I heard from other British bands that I interviewed in the past, that Czech or Slovak audiences or American ones are more open than the Brits. I have the feeling that the British audience gets drunk a little bit too early...and the music becomes a secondary thing.
I don't think that it's a true comment. It depends what kind of event you're at, if you are at an Oasis concert, then people will probably get very drunk and start fights, and this is not too much about music, but if you're at a Mumford's gig, one of our gigs, My Bloody Valentine gig, and I could name hundreds of bands, people listen to the music, I don't think the English are just vandals...
(After kind of realizing I was giving quite a stereotyped view I said) It's true I haven't been to too many concerts in the UK, I just heard that so many times...
Yeah, I know there's a reputation about the English people that they're getting drunk and rowdy, but I don't think it is necessarily true.
Radlands is an album quite different from your previous records, more guitar-based. Have you had such a sound in your minds before you got into the studio or it was created during the process?
It was a decision to make an album that was more economic and more naked. Less sonics and less stuff for the songs to hide behind, you know. We wanted the songs to be pretty much out in the open where everyone can hear them and see them and we didn't want the crowded synthesizers for a sound like that. And I also thought we have done that quite well on the second album and the third album. And it always gets to change things up because you keep it exciting for yourself, people in the band and I think also for the audience.
You talked about the nakedness of the album and it brings me to my next question. There are songs like Radlands written by Blaine but also your song Where The Wild Roses Grow, which is a duet with your girlfriend Sophie Rose-Harper. When you sing this song on stage in front of so many people, don't you feel a little bit naked? From my point of view, it's quite audacious...
What do you mean by audacious?
I mean that you just open up your personal feelings quite a lot. That's quite usual in music, but still I consider these songs to be much more intensive in that kind of way.
Yeah, but if you don't share anything, it's boring. Imagine, if you're at the party and there are about ten people in the room and everyone is just kind of high, and it might be a very boring party and if you want fun, you gotta look the people in the eye and show them a bit of yourself. The music is just the same. And the more you're willing to share in your songs and you're brave enough to talk about, I think the better. Because people want that. No one wants to be lied to, do they?
So you wanna do what people want?
No, we do what we want and that's to tell the truth about how we feel. And it's just depending on the kind of song, you can either do it in a very entertaining way, like in the song Greatest Hits, or to do it in a kind of very honest way.
You're good friends with Tribes and Peace, is there any idea about collaboration with them?
Maybe...(after few seconds) Possibly...nah, I don't think so (and he smiles). I love their music, Tribes and Peace are great bands and they're good people and they're friends of ours...we might do a song with them, I don't know, I wouldn't say 'no', I am sure it would be really cool to do that, but I don't think it's something we would be thinking about, you know. They've got their stuff to do, we've got our stuff to do.
Is there actually anybody you would like to collaborate with (and it could be really anybody)?
There's a singer, a girl called Rosie Lowe I'd like to do some songs with. I don't really know...I'd like to do something with Frank Ocean. I love Frank Ocean.
Are you already thinking about the next album and do you have a hint how it may sound?
We've got some songs together, about eight or nine new songs, so we have started writing. We don't really know if we're doing it yet, the plan is to set up a studio in London and record it ourselves, you never really know what the album's gonna be like until it's finished and released and it comes out. We are all listening to all kind of stuff and keep our heads open, but it's too early to say what kind of record it'll be.
In summer I met Billy Corgan at a press conference of a Slovakian festival and I asked what freedom ment to him. It was in connection with one of his new songs called The Celestials. He asked me then what the freedom ment to me. And first thing that came to my mind was to quote one of your songs...
Freedom is an illusion generated by your brain...
Yeah, exactly, the lyrics of Alice Springs.
And what did he say?
He didn't even pay too much attention to this line and talked about how America has changed. For him it was freedom to be American and now it's a dark place. So I wonder when I ask the same question: 'What is freedom to you?', what answer I'll get from the Mystery Jets.
Freedom is a feeling. And it comes and it goes. And I think it's possible to be in prison and still feel free. And the thing is that it's an internal feeling. When we're on stage and we're doing a good gig I think we would feel free. But it is an illusion, in a way that probably the most of things that happen on the planet are an illusion.
There's a huge trend of psychedelic music in contemporary pop…
Yeah, bands like Tame Impala...
I don't consider Mystery Jets to be so much psychedelic, but your Twitters are full of references to these bands. Why do you think psychedelia is still so much attractive for the musicians and the listeners too?
I love psychedelic music and I love all the new stuff that has come out like the new Temples, Tame Impala, Unknown Mortal Orchestra, and Peace are to some extent also a bit psychedelic. I think the reason why psychedelia is so popular is probably because it's an experimental way to make guitar music. And kids and guys love guitars, generally, and if you want it more sort of artistic or expressive, then psychedelia is a great place to explore.
And also psychedelic music has been quite big in the past, so there's been a lot of influences to carve out your own sound from. I think Mystery Jets were quite psychedelic, especially on our first album Making Dens. We grew up listening to Pink Floyd and Syd Barrett, so songs like Horse Drawn Cart, Purple Prose, even Zoo Time, but that's a bit industrial, they have that psychedelic feel in them.
You released your first live album Live At The Royal Festival Hall this year and it came out on a vinyl. This kind of distribution of music is coming back and it's getting more and more popular, are you a fan of vinyls? Do you have your own collection?
Yeah, I do. Well, but I think it's popular in a very very small way. It's one percent of what it used to be. Vinyl was the thing the albums used to get released on until tapes came along and CD's came along in the 80's or the 90's. And as you say vinyls become slightly more popular again, but really it's only a tiny thing.
I think there's people out there who like to collect stuff and they appreciate the size of the vinyl and the artwork, and you can enjoy to look on something that is bigger, so I think that's that kind of thing. And also vinyl records sound better and they have a warmer sound.
And because I am from the Czech Republic, I can't leave out the question…any plans for coming to Prague?
I hope so, I really hope so. We don't have any plans, but I think next year we might tour, it depends on when the album is finished.